Fox Racing Proframe Helmet: The Ultimate Trail Helmet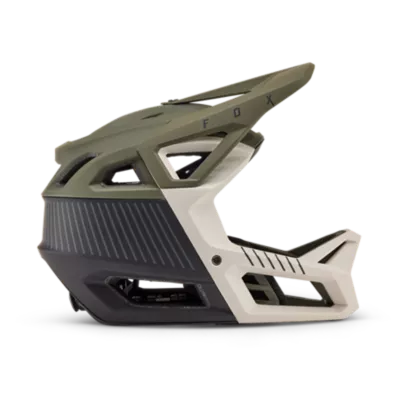 ‍
‍
If you're an avid mountain biker or enduro racer, you know the importance of having a reliable and high-quality helmet. Fox Racing, a leading brand in the motocross industry, offers a wide range of top-notch helmets, and their Proframe Helmet is no exception. Designed to meet the needs of all-mountain riders and enduro racers, the Fox Racing Proframe Helmet combines lightweight construction, full-face coverage, and advanced safety features to provide the ultimate trail helmet experience.
The Evolution of the Proframe Helmet
The Proframe Helmet has been the go-to choice for many riders since its introduction. Over the years, Fox Racing has continuously improved and refined the Proframe Helmet to make it even better. The latest iteration, the Proframe RS Helmet, takes the original design to new heights with the addition of MIPS technology and a dual-density EPS liner. These features enhance the helmet's ability to absorb impact forces and provide superior protection in the event of a crash.
Lightweight Construction for Maximum Comfort
One of the standout features of the Fox Racing Proframe Helmet is its lightweight construction. The helmet is made from a superlight shell, which reduces overall weight without compromising on protection. This lightweight design makes the Proframe Helmet incredibly comfortable to wear, even during long rides or intense races. Riders can enjoy the benefits of full-face coverage without feeling weighed down or restricted in their movement.
Exceptional Ventilation for Optimal Airflow
When you're pushing yourself to the limits on the trail, staying cool and comfortable is crucial. The Fox Racing Proframe Helmet addresses this need with its exceptional ventilation system. The helmet features 15 intake vents and 9 exhaust vents strategically placed to provide maximum airflow and breathability. Whether you're grinding up a steep climb or flying down a technical descent, the Proframe Helmet keeps your head cool and sweat-free.
Fully Integrated Chinbar for Added Protection
The Proframe Helmet sets itself apart from other trail helmets with its fully integrated chinbar. This unique feature provides additional protection for your face and jaw without sacrificing ventilation or adding unnecessary bulk. The chinbar seamlessly integrates into the helmet's design and can be easily adjusted or removed depending on your riding preferences. With the chinbar attached, the Proframe Helmet offers full-face coverage for maximum safety on aggressive trails or during high-speed descents.
Advanced Safety Features: MIPS Technology
Safety is of utmost importance when it comes to choosing a helmet, and the Fox Racing Proframe Helmet is packed with advanced features to keep you protected. One of these features is the MIPS (Multi-directional Impact Protection System) technology. MIPS is a revolutionary technology that reduces rotational forces during impacts. The Proframe Helmet's MIPS system allows the helmet to move independently of the head, reducing the risk of brain injuries in certain types of crashes.
A Variety of Colors and Sizes to Suit Every Rider
The Fox Racing Proframe Helmet is available in a wide range of colors to suit every rider's style and preference. Whether you prefer a sleek and stealthy black, a vibrant red, or a standout yellow, there's a Proframe Helmet color option for you. Additionally, the Proframe Helmet comes in various sizes, including small, medium, large, and extra-large, ensuring a perfect fit for riders of all head sizes.
Customer Reviews: What Riders Are Saying
Don't just take our word for it - the Fox Racing Proframe Helmet has received rave reviews from riders all around the world. Here's what some of them have to say:
"The Proframe Helmet is the best investment I've made for my safety. It fits like a glove and provides excellent ventilation. I feel confident and protected every time I hit the trails." - John, avid mountain biker.

"I've tried various helmets, but the Proframe is hands down the most comfortable and lightweight helmet I've ever worn. The MIPS technology adds an extra layer of safety, and the ventilation is top-notch." - Sarah, enduro racer.
Where to Buy the Fox Racing Proframe Helmet
Ready to take your trail riding or enduro racing to the next level? The Fox Racing Proframe Helmet is available for purchase by clicking here. You can choose from a variety of colors and sizes to find the perfect fit for your head. With its lightweight construction, full-face coverage, and advanced safety features, the Proframe Helmet is the ultimate choice for riders who prioritize comfort, protection, and style.
Conclusion: Ride with Confidence in the Fox Racing Proframe Helmet
When it comes to trail helmets, the Fox Racing Proframe Helmet stands out from the crowd. With its lightweight construction, exceptional ventilation, fully integrated chinbar, and advanced safety features, it offers unmatched comfort and protection for all-mountain riders and enduro racers. Don't compromise on your safety - choose the Fox Racing Proframe Helmet and ride with confidence on every trail.
Affiliate Disclosure:
Clutch City Moto is a participant in the Amazon Services LLC Associates Program and other affiliate advertising programs. This means that we may earn a commission when you make a purchase through our links. The revenue generated helps support and maintain our website, allowing us to bring you valuable content and recommendations for motocross enthusiasts. Rest assured, the products we endorse are ones we genuinely believe in and have carefully selected for their quality and relevance to our community. Thank you for your support! 🏍️✨