EUNORAU INNOVATIVE ELECTRIC BIKES
Regular price
$2,199.00
Sale price
$1,699.00
Unit price
per
Sale
Sold out
EUNORAU FAT-AWD Electric Bike 48V 250W+350W Dual Geared Hub Motor
Introducing the EUNORAU FAT-AWD Electric Bike Dual Hub Motor, the ultimate choice for adventure seekers and thrill enthusiasts! This ebike boasts an all-wheel-drive system powered by two hub motors, making it a top performer on any terrain.
Equipped with a powerful 48V/1000W motor, this ebike delivers a top speed of up to 28 mph, enabling you to cover more ground and reach your destination faster. The 48V/17.5Ah battery provides a range of up to 50 miles on a single charge, ensuring that you never run out of juice when you're exploring the great outdoors.
The EUNORAU FAT-AWD Electric Bike Dual Hub Motor features a high-strength aluminum alloy frame that can withstand the toughest terrains. Its 26 x 4-inch fat tires provide exceptional traction and stability, allowing you to ride through sand, snow, mud, and any other challenging terrain with ease.
The ebike comes with a Shimano 7-speed transmission system, which allows you to adjust the gears according to your riding preferences. The hydraulic disc brakes provide powerful stopping power, ensuring that you can stop safely even when riding at high speeds.
Whether you're commuting to work, running errands, or hitting the trails, the EUNORAU FAT-AWD Electric Bike Dual Hub Motor has got you covered. Its ergonomic design and comfortable saddle provide a smooth and comfortable ride, while the integrated LED headlight and taillight ensure that you're visible even in low-light conditions.
Invest in the EUNORAU FAT-AWD Electric Bike Dual Hub Motor today and experience the ultimate combination of power, performance, and versatility. With its advanced features and unbeatable performance, it's the perfect choice for anyone who wants to take their riding experience to the next level!
Specifications
MOTOR: 48V/250W+350W geared hub motor with 45 N.m +60 N.m torque
FRAME: Aluminum Alloy 26*17 inch
BATTERY RANGE:  35+Miles with a Single Motor
BATTERY CHARGING TIME: 6-7 hours
BATTERY TYPE: Lithium-Ion
BATTERY CAPACITY: 48V15.6Ah
THROTTLE: Thumb Throttle
DISPLAY: DZ29 / 500S / DM07 Display
HEADLIGHT:  Front LED Headlight
TAILLIGHT:  YES
REAR RACK: YES
FENDER: YES
RIMS: 26 inch Black Alloy
SPOKES: Stainless Steel
TIRES: Krusade Sport Tires 26 x 4.0 
FREEWHEEL: Shimano 7-Speed Freewheel
SHIFTER: Shimano Push-Button 7 speed
CHAINRING: 46T chain-wheel crank
BRAKES: Promax Disc Brakes 160mm with Motor Cut-Off Sensor in Brake Handles
HANDLEBAR: Adjustable Stem for Comfort - Matte Black 
SADDLE:  Comfort Saddle with Suspension
PEDALS: High-Quality Nylon Pedals
MANUAL: INCLUDED
TOOL:  INCLUDED
BOX DIMENSIONS:  (cm) 173 L x 30 W x 82H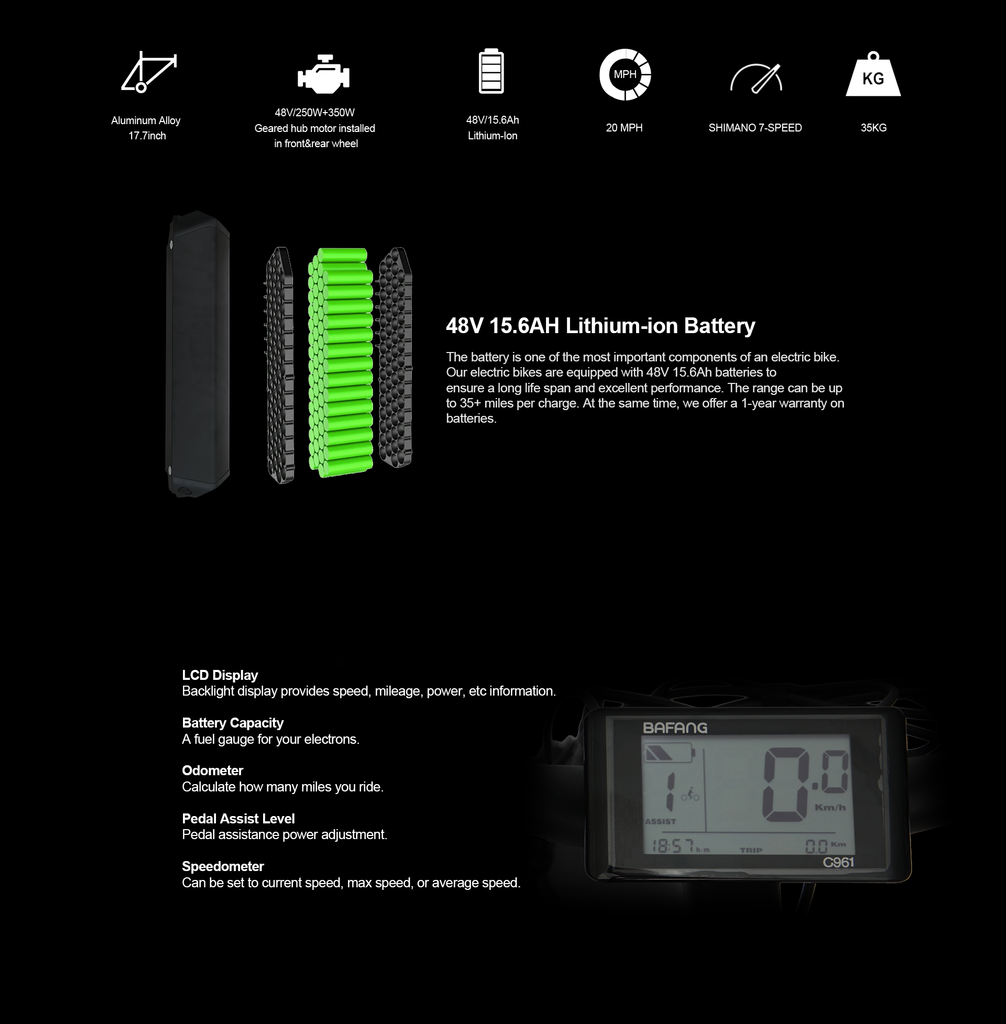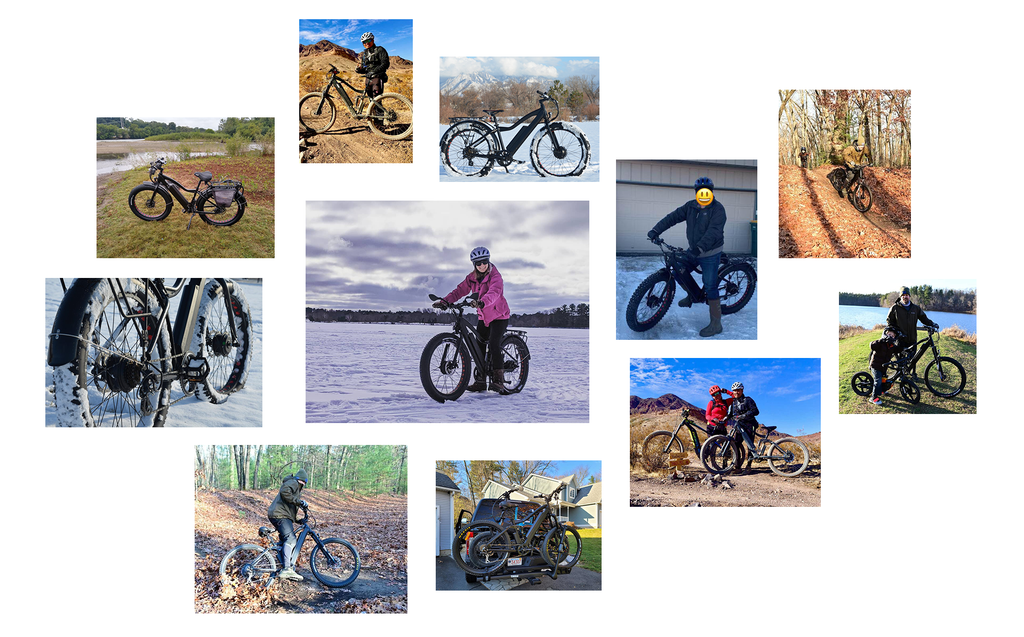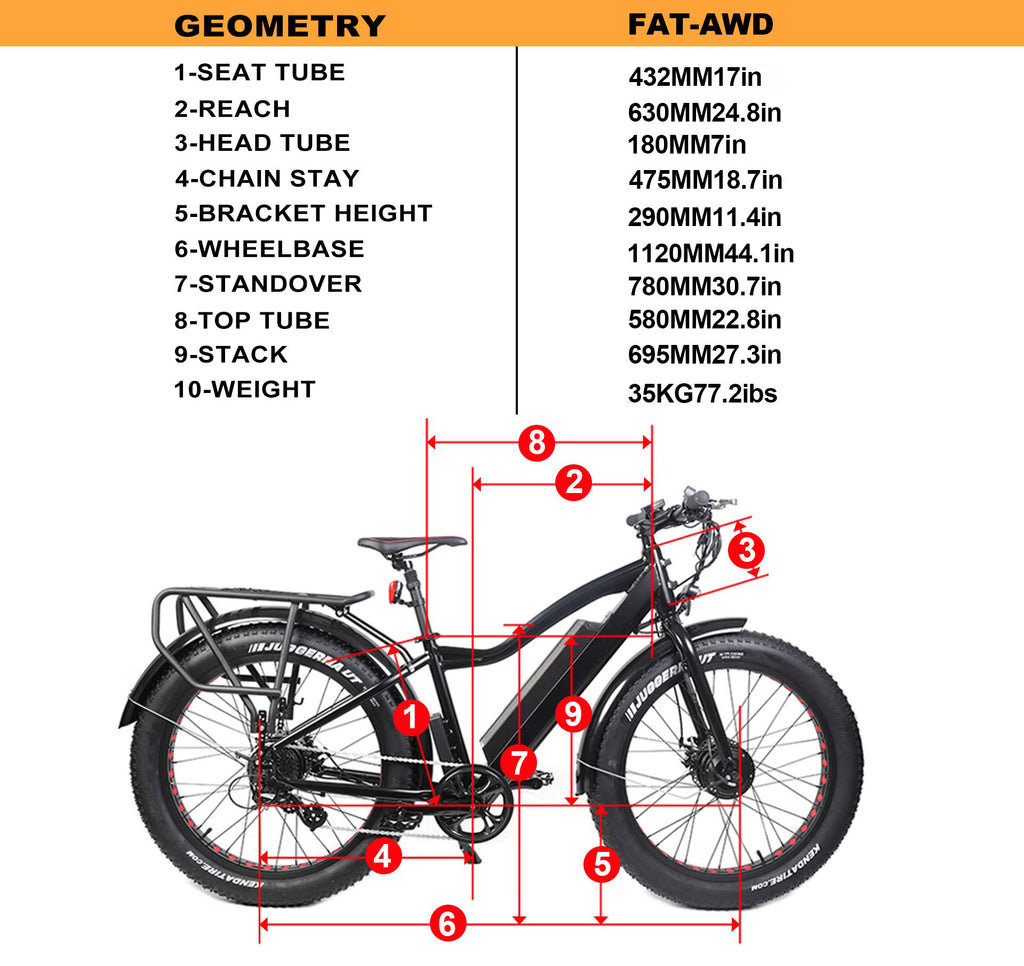 Reviews from Professional Media:
About Eunorau

The name, "EUNORAU" (pronounced u-nor-rou),

is a portmanteau of the three sonnets "Europe", "North America", and "Australia". The logo is mainly composed of simple lines, easy to associate with the ebike frame structure, in line with the industry characteristics of the enterprise.
Now it's time for USA.
Slogan

Our slogan, "Get back to nature" is a reminder to enjoy the simple pleasures of being outdoors. This is our slogan because we want it to be relevant forever. Climate change is taking a toll on nature, and if we don't make more efforts to conserve it, our slogan won't mean anything. We urge riders to use electric bikes as a tool to help them explore, while at the same time use them as a way to reduce their carbon footprint.

Wide product range

The EUNORAU product range covers e-bike accessories, conversion kits, and ready-to-ride models; fat tire mtbs, heavy duty cargos, foldables, and so on.

Worldwide

Since we started this venture, we have grown our business tremendously, and continue to do so; operating and selling across the United States, Australia, parts of Europe, and North America, we have built after-sale service centers to support our local partners, as well as collect data from our customers in order to learn how to improve our business practices and products.
EUNORAU has been specializing in electric bikes for since 2009.
The family-operated business started as an effective solution to help tackle global warming; as we knew that gas powered vehicles were and are still a major contributor to substantial air pollution and Global Warming.
Our main focus has always been to produce high-quality e-bikes offered at affordable prices. The electric mobility market is ever-growing, and consumers are starting to understand the real benefits behind non-motorized vehicles; the fun, convenience and versatility they bring. E-bikes will be essential modes of transport in the future, so by making our products accessible, we hope to encourage more people to choose electric over gas.
Share
View full details