EUNORAU INNOVATIVE ELECTRIC BIKES
Regular price
$0.00
Sale price
$2,799.00
Unit price
per
Sale
Sold out
EUNORAU FAT-HS 26" Fat Tire 1000W Dual Suspension & Dual Battery e-Bike
Introducing our 26" Fat Tire Model FAT-HS 1000W E-Bike! With a powerful 48V1000W BAFANG M615 mid motor and cadence sensor, this bike boasts an impressive 160 N.m torque for ultimate trail performance. The aluminum alloy frame comes with front and rear suspension, while the RST GUIDE 75mm travel fork and KS-388L shock ensure a smooth ride. Y
ou'll love the 80-mile battery range and quick 4-6 hour charging time with the lithium-ion battery featuring 48V/17Ah SAMSUNG cells. The CDC6 LCD display and front LED headlight provide easy-to-read information and visibility, while the EUNORAU design hydraulic disc brakes with motor cut-off sensor ensure safe stopping power. This bike also includes a comfortable saddle, high-quality nylon pedals, adjustable stem, and optional rear rack and fenders. Get ready to hit the trails with confidence!
Mid Motor & Dual Suspension & Dual Battery
The FAT-HS has a Bafang mid-drive motor with 1000 nominal watts of power and a whopping 160 Newton meters of torque, for a max speed of 48 km/h. This motor feels every bit as powerful as it sounds, and because it's a mid-drive it's also able to utilize the gearing of the bike for either extra torque or extra speed, depending on what gear you're in. This is a feat that hub drives simply cannot do. It's also something you absolutely want if you plan on tackling extremely steep hills, deep mud, snow or sand, or if you plan on towing a trailer with extra gear, which is something you could most definitely do with the FAT-HS. 


Bafang M615 BBSHD Mid-Drive System
The Bafang M615 system features the G320 electric motor with over 1500 watts of peak power, 160Nm of torque and cadence-sensing assist. This allows you to span cities, climb hills, and explore all the places you want to go with ease.
Front Suspension Fork
Absorbing a lot of jarring bumps and shocks on rugged routes, the RST fork helps maintain your energy, helping you focus on riding better and faster.
Specifications
MOTOR: 48V1000W BAFANG M615 mid motor with Cadence Sensor and 160 N.m torque
FRAME: Aluminum alloy 17/19inch+Front&Rear Suspension
FORK:  RST GUIDE 75mm Travel
SHOCK: KS-388L,190mm
BATTERY RANGE: 80 Miles (48V/17Ah SAMSUNG Cells+ Second Battery 14Ah)
BATTERY CHARGING TIME: 4 - 6 hours
BATTERY TYPE: Lithium-Ion
BATTERY CAPACITY: 48V/14Ah SAMSUNG Cells+Optional Second Battery (Max14Ah)
BOX DIMENSIONS:  (cm) 156 L x 32.5 W x 88H
THROTTLE: Thumb Throttle
DISPLAY: CDC6 LCD Display
HEADLIGHT:  Front LED Headlight
TAILLIGHT:  YES
REAR RACK: Optional
Fender: Optional
RIMS: 26 inch Black Alloy
SPOKES: Stainless Steel
TIRES: Kenda Krusade Sport Tires 26" x 4.0" with K-Shield Protection
CASSETTE: SHIMANO (Or SUNRACE RDM91) 9-Speed Freewheel
SHIFTER: SHIMANO(Or SUNRACE DLM900R9) 9-Speed
CHAINRING: 42T 7075 CNC chain-wheel crank
BRAKES: EUNORAU design Hydraulic disc Brakes 180mm with Motor Cut-Off Sensor in Brake Handles
HANDLEBAR: Adjustable Stem for Comfort - Matte Black 
SADDLE:   Comfortable Saddle
PEDALS: High-Quality Nylon Pedals
MANUAL: INCLUDED
TOOL:  INCLUDED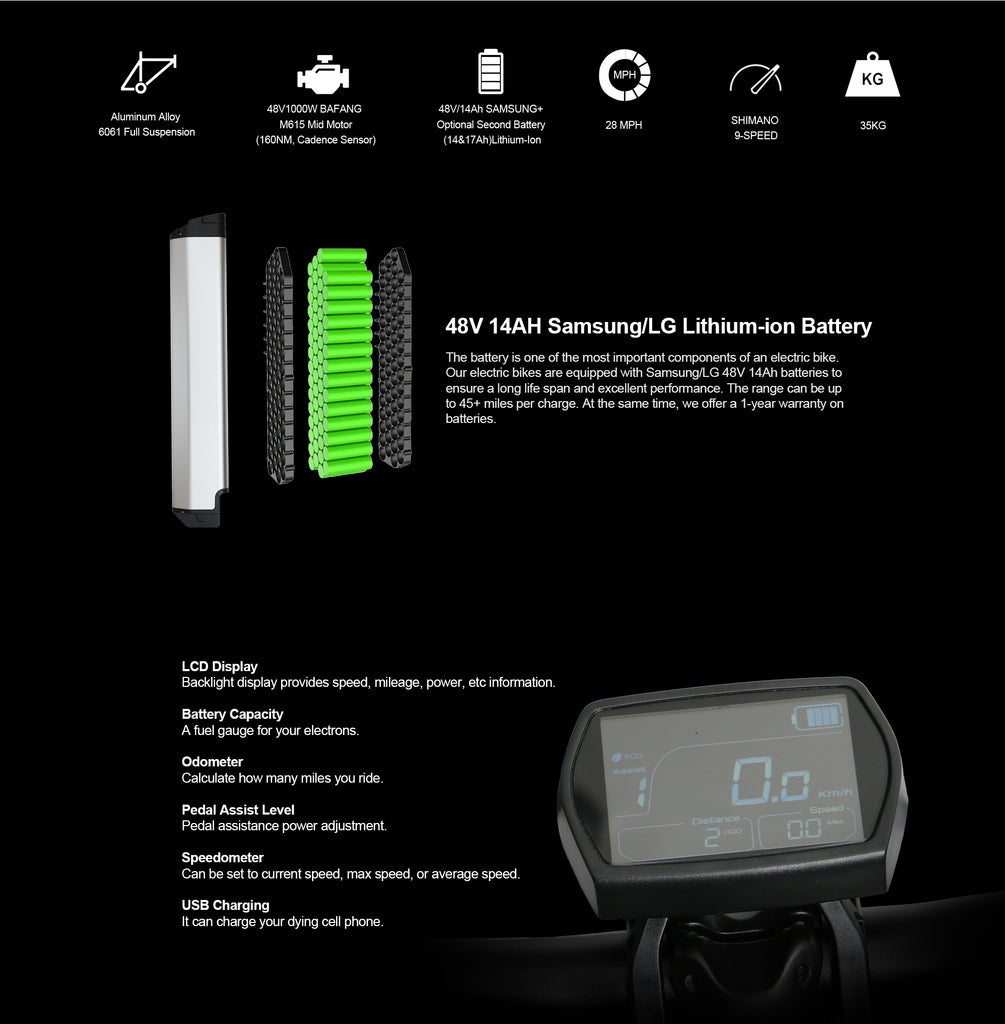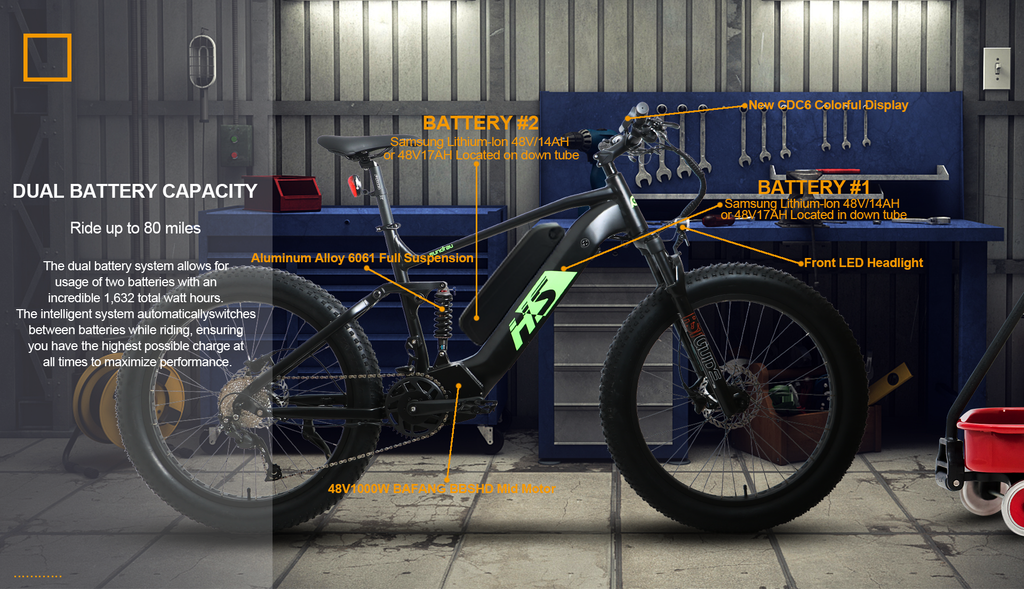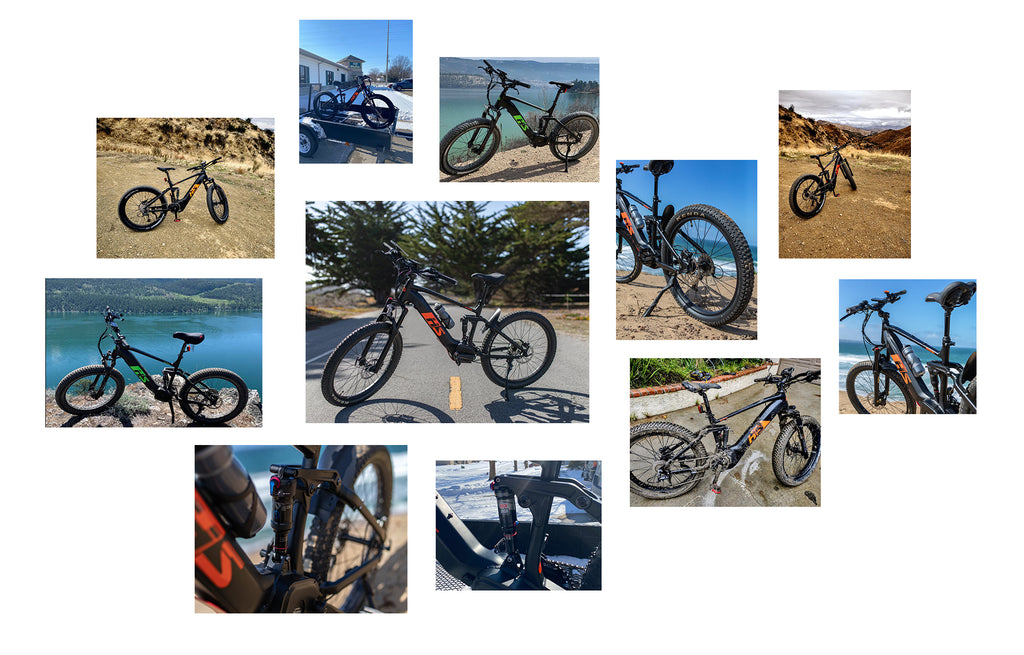 About Eunorau

The name, "EUNORAU" (pronounced u-nor-rou),

is a portmanteau of the three sonnets "Europe", "North America", and "Australia". The logo is mainly composed of simple lines, easy to associate with the ebike frame structure, in line with the industry characteristics of the enterprise.
Now it's time for USA.
Slogan

Our slogan, "Get back to nature" is a reminder to enjoy the simple pleasures of being outdoors. This is our slogan because we want it to be relevant forever. Climate change is taking a toll on nature, and if we don't make more efforts to conserve it, our slogan won't mean anything. We urge riders to use electric bikes as a tool to help them explore, while at the same time use them as a way to reduce their carbon footprint.

Wide product range

The EUNORAU product range covers e-bike accessories, conversion kits, and ready-to-ride models; fat tire mtbs, heavy duty cargos, foldables, and so on.

Worldwide

Since we started this venture, we have grown our business tremendously, and continue to do so; operating and selling across the United States, Australia, parts of Europe, and North America, we have built after-sale service centers to support our local partners, as well as collect data from our customers in order to learn how to improve our business practices and products.
EUNORAU has been specializing in electric bikes for since 2009.
The family-operated business started as an effective solution to help tackle global warming; as we knew that gas powered vehicles were and are still a major contributor to substantial air pollution and Global Warming.
Our main focus has always been to produce high-quality e-bikes offered at affordable prices. The electric mobility market is ever-growing, and consumers are starting to understand the real benefits behind non-motorized vehicles; the fun, convenience and versatility they bring. E-bikes will be essential modes of transport in the future, so by making our products accessible, we hope to encourage more people to choose electric over gas.
Share
View full details